A few days back, we announced on our social media accounts that this month. We will be launching early access to the first SaaS that we develop and sell as B5 Digital,  after 4 years of delivering SaaS and custom software development services to clients.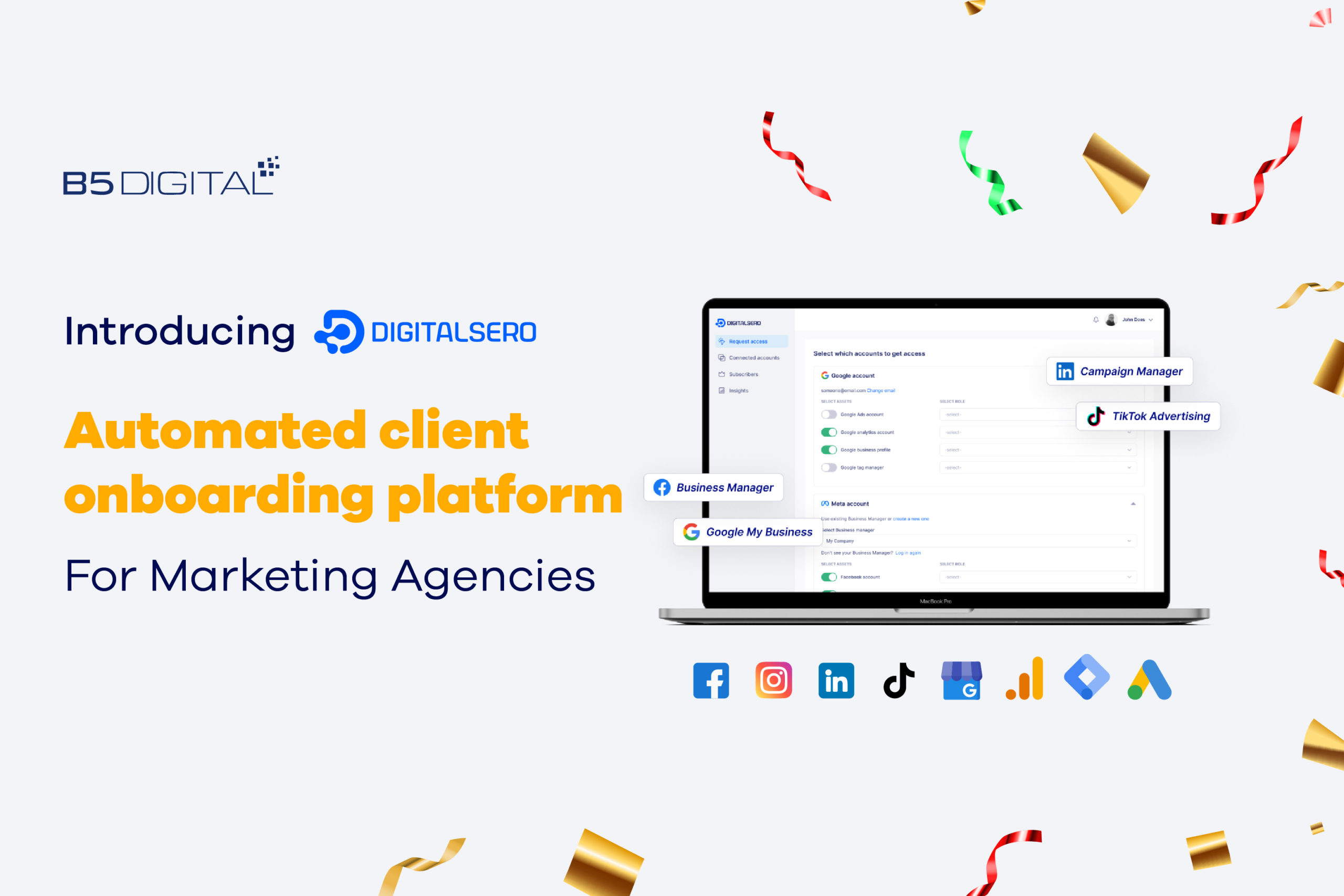 Our first product is Digitalsero, and in this blog, we will be sharing why we have built this platform. What it means for our clients and growth; in addition to an overview of the platform itself.
What is Digitalsero?
First things first, Digitalsero is a B2B platform that helps marketing agencies onboard their clients easily, by allowing each client to share access to their ad and social accounts directly through the platform.
All the agency needs to do is create a customized link, and decide which accounts it needs access to from its clients. 
The client then receives the link, signs into each account, and the access is shared without having to send emails and passwords. Or waste time in this redundant long process. 
The supported accounts and pages that agencies can get access to include: 
Facebook Business Manager, Facebook Ad Account, Facebook Page, Facebook Pixel, Facebook Catalog 
Google Ads, Google Analytics, Google Business Profile (My Business), Google Tag Manager
LinkedIn Campaign Manager and Pages
Digitalsero doesn't only make access sharing for these platforms fast. But also professional, giving clients a great first impression of the agency. Features like branded onboarding pages and custom subdomains transform client experiences and impressions.  
Why did we decide to build Digitalsero? 
In late 2022, we came up with the idea of developing a tool to help marketing agencies onboard their clients easily. The idea was inspired by our vast experience working with marketing agencies that we have developed custom software and automation tools for. 
After market research and some meetings with both our development and marketing teams. We decided that we will be building a tool to help agencies onboard their clients with no effort. 
According to our market research, we believed that we can deliver a tool that provides real value for marketing agencies. Then bring benefits that aren't accessible to them with any other tool. 
What expanding into SaaS means for our clients
This expansion will definitely benefit our existing and future clients. This is because we will be more experienced in the B2B SaaS industry. Handling even more aspects than we did before. Also, being aware of the challenges that SaaS founders face through their journeys. 
This expertise will also boost our handling of SaaS user experience, marketing, pricing, and business models; and more. 
As Digitalsero or any of our future products grow, we will keep updating you with tips, case studies, and anything useful we can share. 
You can learn more details about Digitalsero